Disabled Elderly Denied Access to Mobility Aid
Home > Abuse & Neglect Studies > Disabled Elderly Denied Access to Mobility Aid
December 11, 2009
VIA FACSIMILE 780 415 8611
Complaint to the Protection For Persons In Care Act abuse line concerning:
Ms. Valerie Puttick, Manager
Mountain View seniors Housing Authority,
Mr. Joe Henze, Vice – Chairman of Board
Re: Arlene Weber, Sundre, AB
Mountain View Seniors' Housing Authority. Â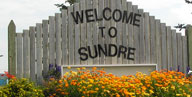 We have been informed that Ms. Weber was sent a letter (attached) stating that she was no longer able to park her scooter inside the building. Â Ms. Weber is disabled (since 1974, after a horse accident) and relies on the use of her scooter every day to get lunch, groceries, mail and socialize. Â 
She was accepted into residence at the Mountain View Seniors Housing on May 24, 2004. She purchased her scooter on January 17, 2005. Apparently nothing was said about her scooter at that time. Then a policy on Scooters was instituted dated November 30, 2006 of which she was not notified. This entire matter did not become an issue until recently.
The manager has now issued an eviction Order. She has cancelled the 62 year old disabled woman's lease.  
We have been told that Mr. Henze, Vice Chairman, when asked what would happen if my Ms. Weber fell outside, commented: "This is what they have insurance for."
Family indicated that they feel Ms. Puttick is treating all seniors in her area very rudely and unsympathetically. Â We were also told that Ms. Puttick stated that Ms. Weber was lucky to be living in subsidized housing. (It should be noted that persons like Ms. Puttick have employment (managerial positions) because of Alberta citizens such as Ms. Weber).
When seniors are admitted to these facilities, they are always told, "This is your home".
We ask you to investigate this matter. Thank you.
Elder Advocates of Alberta Society
cc. Angela Lobley
Responses
(Click to enlarge)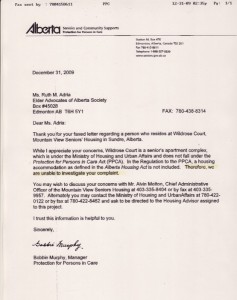 Tags: Mountain View seniors Housing Authority, Valerie Puttick