Scalding Alberta Citizens
Home > Abuse & Neglect Studies Fatality Inquiries > Scalding Alberta Citizens


California Victims of Crime Committee Report, Dan Sorensen, noted studies that suggest that 80%-85% of criminal abuse of residents in institutions (an estimates 2.3 million people-US) never reached law enforcement authorities.

In 1989, Jane Doe was found dead in a tub filled with 7 inches of water. The elderly Alzheimer patient had been severely scalded.
How this happened has never been explained. The autopsy report stated that her skin, came off in clumps, from her legs, from her arms, from her neck, from her face.. At her funeral, the coffin could not be opened. This brutal death was not reported to authorities even though it was a sudden death. The family of Jane Doe had been promised that such a scalding would never happen again.
But some years later, in the same nursing home, Jennie Nelson, having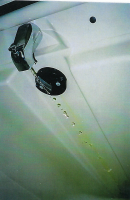 been lowered into a tub of scalding, hot water, suffered deadly 3rd degree burns. She died shortly after. An Investigator who testified at the Fatality Inquiry, told the Court that the temperature of the bath water was so hot that he had to quickly withdraw his hand. There was no police investigation, no one was held accountable.
In a Calgary Group Home, David Holmes, a gentle, handicapped man,

whose caregiver placed him in a tub of scalding hot water to bathe him, died of severe burns.

It was reported that the worker who bathed the man alleged she did not realize the man had been scalded, nor did any other staff immediately recognize the seriousness of the man's injuries. (How ludicrous. Did she not have her hands in the scalding water?)

At the Fatality Inquiry, the Director for the Protection for Persons in Care who had been responsible to call the police, testified to the Inquiry that she had failed to do so.


However, In Tulsa, Oklahoma, a nursing home aide was sentenced to six years in prison on two counts of neglect for the shower scaldings of two disabled residents, August 28, 2008

In Alberta, no charges have been laid.

No one has been held accountable for these horrific deaths.