Alberta Seniors Housing, unmonitored, unsafe
Home > Letters & Reports > Alberta Seniors Housing, unmonitored, unsafe
Letter
January 24, 2012
VIA FACSIMILE 780 422 8551
Mr. Mike Leathwood. Assistant Deputy Minister
Executive Director of Housing Operations
Housing and Urban Affairs.
Department of Municipal Affairs, Edmonton, AB
Dear Mr. Leathwood,
RE: Alberta Seniors Housing, unmonitored, unsafe.
It has become public knowledge that older Albertans living in what they perceive to be seniors safe housing are at serious risk for neglect, theft and deadly harm.
May 8, 2011, an 84-year-old woman suffered a violent, savage, physical and sexual assault inside her unit at the downtown Chinese Elders' Mansion Retirement Home, 9550 102 Avenue. She died a week later, May 16, 2011. On September 18, 2011, downtown vagrant, Marvin Witzaney was charged with second-degree murder and aggravated sexual assault.
August 2, 2011, 83-year-old Anna Fedorio burned to death in an explosion and fire at the Bethany Senior Citizens, Strathcona Home, 9920 83 Avenue. The alleged perpetrator of the crime also died. Seven seniors were taken to hospital, six suffering from smoke inhalation and another with chest pains after the fire.
December 27, 2011 Police report that a man broke into a seniors complex, stole jewelry and other valuables. The suspect is believed to be five foot five and is roughly 35 years old and was seen wearing glasses with a dark frame.
January 2, 2012, Police believe that the same man broke into a seniors complex in the downtown core area. It was reported that a man sifted through suites for two hours. But when staff caught him hiding in one of the suites, he claimed he was in the wrong room. He is alleged to be a purse snatching thief who targets seniors.
On January 7, 2012 a resident of of Strathcona Place Seniors Residence at 77 Avenue and 109 Street made the gruesome discovery of a naked body of an elderly woman in the fenced backyard.
January 16, 2012, about 1:00 AM, a resident at Knox Met Manor Seniors Apartments, 10941 83 Avenue, was awakened by noise from the main kitchen. She called police dispatch and then called another resident on the 3rd floor who called 911.
Later that morning, about 6:30 AM, a resident who walked for exercise, who was not aware of the earlier police presence because she saw no signs of broken doors or windows, looked outside to the patio and noticed the Phelps money machine for laundry cards was missing. She walked back to her apt. and phoned the so called after hours emergency number (780) 918-7773 and left a message about the missing Phelps money machine. At about the same time, another resident also called the emergency number.
About 8:10 AM, a 7th floor tenant, overlooking south lane saw two males wearing hoodies leave the back entrance carrying something large covered with a blanket. Later it was discovered that the large wall T.V. had been stolen. One must wonder how many times, Knox Met Manor had been broken into that night?
Though Strathcona Management Agency had been fully alerted to the break in prior to 7:00 AM, CAO / Manager of the Management Agency did not attend on site until 10:00 AM.
Predators who violate senior homes are fully aware that there will be no monitoring or security presence to interrupt their unlawful intrusion.
Safety and security of person should be the right and reality of every Canadian citizen.
Finally, in regard to the noted incidents, this is only the tip of the iceberg.
We respectfully ask that this matter receive your immediate attention.
We would be grateful to be in receipt of a response by the 1st of February, 2012. or earlier. Thank you.
Yours truly,
Elder Advocates of Alberta Society
cc.
The Honourable Mr. George VanderBurg, Minister of seniors
Ms. Loretta Bertol, Housing Advisor, North Operations, Municipal Affairs, Alberta Seniors
Ms. Irene Martin, Alberta Senior Citizens Housing Association
Response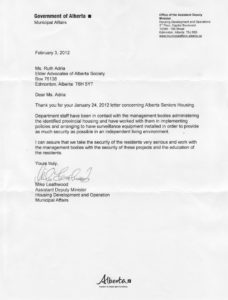 Tags: Bethany Senior Citizens, Chinese Elders' Mansion Retirement Home, George VanderBurg, Irene Martin, Knox Met Manor Seniors Apartments, Mike Leathwood, Senior housing, Strathcona Place Seniors Residence