Divorce by Nursing Home
Home > Abuse & Neglect Studies Blog Letters & Reports > Divorce by Nursing Home
Necessary care forces Oyen couple apart
DEATH HAS NOT PARTED AN OYEN COUPLE AFTER 54 YEARS OF MARRIAGE BUT ALBERTA HEALTH SERVICES HAS.
By Giilian Slade, Medicine Hat News
Gary Davis and his wife have a home in Oyen. After his wife was treated in hospital a few months ago, and her needs assessed, she was placed in a seniors' residence with dementia care in Medicine Hat.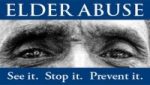 She is being cared for "fantastically" in Medicine Hat, says Gary, and the couple is grateful, but it means he is parted from her by nearly 200 kilometres. To visit his wife he regularly spends five hours on the road for a round trip.
"We are going to die apart and that makes be mad, after 54 years," said Davis tearfully.
"It is called divorce by nursing home," said Drew Barnes, MLA for Cypress Medicine Hat. "I have tremendous empathy for both
him and her."
There is a hospital in Oyen with 30 long-term care beds but it had no space available.
"We are outraged," said Ruth Adria of Elder Advocates of Alberta Society.
"These people are taxpayers and they deserve services, especially when they're older. It is disgusting that people in high places are being well rewarded and they're not doing anything."
The lack of options closer to home are not isolated to small communities,
said Katherine Chubbs, AHS chief zone officer for the south zone.
"We have a growing seniors' population and a growing demand on spaces for continuing care," said Chubbs, who could not discuss specifics of the Davis situation due to privacy issues.
Families are offered a choice of facilities, said Chubbs. Their choice is not always available and they are put on a waiting list for their preferred site. "It is a challenge for us to juggle."
In November 2009, an interim government policy, due to the H1N1 pandemic, was put in place requiring seniors who needed long-term care to take the first available space within 100 kilometres. That policy was abolished in June 2013 because it was determined to be unacceptable to separate married couples by 100 km.
When a couple in Newfoundland was separated by 200 km late last year, media reports refereed to it as a form of "elder abuse."
Medicine Hat MLA Bob Wanner said he is pleased the care she is receiving in Medicine Hat is good, but is concerned about the toll on her husband.
"It is an emotionally taxing time. I am sure it is an aching heart that he has," said Wanner, acknowledging the challenges AHS faces keeping services in all parts of the province, but feels the system has to be looked at.
The Alberta Continuing Care Association says the Davis situation is "very unfortunate."
"We would like to see families stay together," said executive director Tammy Leach.
A transition phase for seniors, when one needs a level of care not available at home, can be difficult, said Chubbs. AHS works hard to get people back to being as close to home as possible, she said.
In general, AHS matches up a new resident with a facility based on the classification of care, but there may be some unique circumstance in some cases, said Chubbs.
Minister of Health Sarah Hoffman's mantra has been the right
care, in the right place at the right time.
"We aim to do as much as you can and we continue to strive," said Chubbs.
There are plans to increase the number of spaces in the coming months and there will be more resources to provide additional home care services to make it possible for people to stay in their own home longer, said Chubbs.
The physical, emotional and financial strain weighs heavily on Davis, who has already had to reduce the number of trips to Medicine Hat. He says staying overnight in a motel or hotel is not financially feasible.
Barnes would like to see AHS provide a bed in the seniors' residence for some overnight stays for him as a temporary measure.
Davis is considering selling their home in Oyen and moving to Medicine Hat.
"I can't see being there without her. There is nothing else," said Davis.
Adapted Medicine Hat News /Gillian Slade 18/08/18

Gillian Slade, Health & Seniors' Reporter- Medicine Hat News