Dora Cinciruk: Formal complaint of unlawful confinement
Home > Dependent Adult Abuse > Dora Cinciruk: Formal complaint of unlawful confinement
This formal complaint is a recent development in the ongoing history of Dora Cinciruk.
December 28, 2012
Dr. Douglas Faulder, Medical Director, Capital Care Norwood
Chief of Police, Mr. Rod Knecht Edmonton Police Service,
Dr. Chris Eagle CEO Alberta Health Services
Re: Dora (Eudokia) Cinciruk – UNLAWFULLY CONFINED
Resident # 219 2 N. Capital Care.
Norwood Care Center, Edmonton, AB.
– detained under close guard, since October 27, 2009
Moved to St. Michael's Care Center September 2012.
COMPLAINT
Mrs. Dora (Eudokia) Cinciruk has been detained behind locked doors in an Alzheimer unit, since December 2009. Prior to that she was detained at the University Hospital.
We allege that no valid, scientific, ethically administered Capacity Report exists which declared Mrs. Cinciruk incompetent and unable to manage her affairs. We suggest that Dora Cinciruk has been unlawfully confined.
SYNOPSIS
Dr. Craig Buchholz, Psychiatrist, on December 7, 2009, allegedly assessed Mrs. Cinciruk and declared her diagnosis as "objectively documented dementia". The court rejected this diagnosis because it could not be substantiated. Despite having allegedly carried out a thorough professional assessment, Dr. Buchholz had not even learned that Mrs Cinciruk was totally illiterate.
The Court declared the Buchholz assessment invalid and ordered that Mrs. Cinciruk undergo another capacity assessment. On July 28, 2010 Dr. Kevin Lawless, psychiatrist, met with Mrs. Cinciruk for 80 minutes. He stated in a 4 page report: "Mrs. Cinciruk had no difficulties in comprehending the questions posed". However, Dr. Lawless completed his report stating that he had not conducted a capacity assessment. "a capacity assessment was not conducted".
HISTORY
Mrs. Eudokia Cinciruk was admitted to the University of Alberta Hospital on October 27, 2009 for treatment of a foot injury. At the Hospital she was seen by numbers of psychiatrists. Dr. Craig Buchholz declared her incompetent and disregarded the fact that this woman is totally illiterate in English and speaks only a very colloquial English. She speaks Ukrainian, German and Russian.
Because of her difficult life, she had not at any time attended school even when she was young because of war time. Her mother and father died and then orphaned, she had to fend for herself and her siblings.
We submit that she must be an amazing woman and very intelligent in that she lived alone in her Bonnie Doon home. She has never mismanaged her finances, she has always paid all her bills and taxes; functioned well in the community; she grew a large garden and had an abundance of lovely flowers in the front of her home. She managed well. She lived carefully on her pension, saved her money and gave thousands and thousands of dollars to her children.
Presently, she dresses herself, feeds herself, washes her own clothes in the sink and hangs them over the bed rail, she directs her own care. Yet she has been detained in a long-term care, Alzheimer unit.
Dr. Lawless, in his report, referred to her as a "delightful lady". We concur. She is not incompetent and those who know her well affirm that she is not incompetent. She takes an interest in the world around her. We have a letter from a professor at the University of Alberta who speaks Ukrainian and has written a statement that this woman is not incompetent but very articulate in Ukrainian. We know of many others who share this professor's validation of Dora.
Since admitted to the Alzheimer unit in 2009, Mrs. Cinciruk was held under close guard.
This little woman was transferred to the locked Norwood Center by three University Hospital security staff. She laughed about the bizarre transfer, commenting, where could she have gone with a bandaged foot, denied her shoes, in the midst of winter.
It has been reported that she has been interviewed by numbers of Psychiatrists;
Dr. Jorge Perez-Parada,
Dr. Brian Stonehocker,
Dr. Rena LaFrance,
Dr. Heidi Wilkes,
Dr. Kathleen Collinson,
Dr. Craig Buchholz,
Dr. John Morrissey
Dr. Darryl B. Rolfson.
Some saw her more than once, some up to eight or nine times. Despite all the visits and interviews and alleged assessments, no one recognized / understood, that this woman is totally illiterate in every language, including English.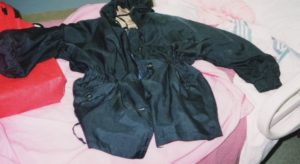 On the strength of the flawed assessment, Dr. Buchholz appointed Anna Wegner, daughter, as "decision-maker". Because Dr. Buchholz's Capacity Report was rejected by the court and found to be invalid, we submit that the appointment of Anna Wegner could not be considered valid. She was appointed pursuant to the Adult Guardianship and Trusteeship Act. She actively denied her mother, her rights.
Mrs. Cinciruk's was accused of hoarding and having an unclean house. We had not seen the inside of her house. However, while at the University Hospital, we examined her spring jacket and winter jacket, (photographed them) which were both clean and did not have a smell. Her clothing in the closet did not appear soiled or have a smell. She was out and about in the community and was not perceived as a "bag lady type". She carried on her business and paid her bills. She had not mismanaged her finances.
On January 4, 2011, we were informed by Dora Cinciruk, that appointed "decision-maker" Anna Wegner did not take Dora out for Christmas dinner or visit Dora at Christmas at all, nor did she send any gifts. As a matter of fact Dora had no Christmas visits or gifts from the daughters who the previous year applied for guardianship or trusteeship of their mother.
Anna Wegner wrote a Directive in May 2010, which was held at the nursing desk, restricting her mother's visitors, directing that only family be allowed to visit Dora. Visitors of Dora's choice were to be denied access. Visitors were insulted and ordered to leave. For close to a year she was denied to attend Mass which was held in the same building. She was given permission to attend after a complaint was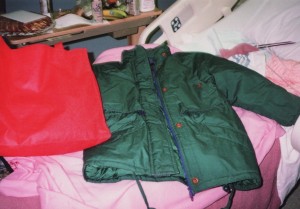 made to the Alberta Human Rights Commission.
During a visit to Mrs. Cinciruk, we were threatened by nursing staff and informed that if we failed to leave, we would be physically removed by the Edmonton Police Service. The professional nursing staff acted as jailers and enforcers.
On May 3, 2010, Mrs. Cinciruk was denied the right to attend her court hearing held at Queens Bench Surrogate Court @ 2:00 PM, Edmonton Court House, Application DA03 15488, despite a letter to the nurse, Administrator of Norwood.
Mrs. Cinciruk was denied the right to fresh air outside the building. She has seldom been allowed outside since her detention of October 2009.
Physicians and nursing staff have subjected this intelligent, creative, wonderful human being to mind-numbing enforced idleness.
"I am a Canadian citizen. How can the government allow this to be done to me? I worked hard all my life and was not a burden to anyone. I did not steal, cheat or murder anyone. I paid all my debts. I was a good citizen." –Dora Cinciruk
Indeed. Mrs. Cinciruk is a Canadian Citizen & has inherent rights. Nevertheless, physicians, psychiatrists, nursing staff, social workers, security personnel have sharply suspended and curtailed her civil and Charter rights.
On October 15, 2012, the Honourable Justice D.J. Manderscheid ordered that a Capacity Report of Mrs. Cinciruk be carried out.
We allege that this Canadian citizen has been unlawfully confined.
Yours truly,
Elder Advocates of Alberta Society
cc.
The Honourable Mr. Fred Horne, Minister of Health
College of Physicians and Surgeons of Alberta
Response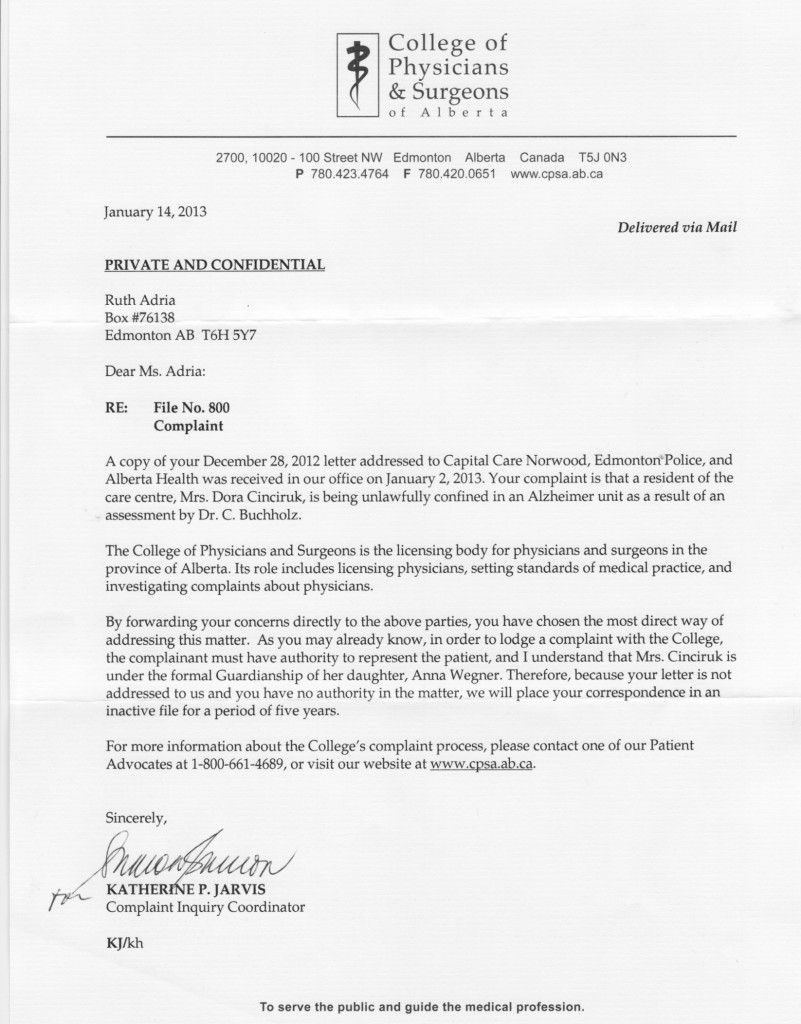 Tags: Alberta Health Services, Brian Stonehocker, Capital Care Norwood, Chris Eagle, College of Physicians and Surgeons, Craig Buchholz, Darryl B Rolfson, Dora Cinciruk, Edmonton Police Service, Fred Horne, Heidi Wilkes, John Morrissey, Jorge Perez-Parada, kathleen collinson, Rena LaFrance