Inquiry sheds light on plight of seniors
Home > Fatality Inquiries > Inquiry sheds light on plight of seniors
Albert Orpen was born with a taste for adventure and a thirst to see the world.
The son of a Portsmouth shipyard worker, at age 14 he made it into the British army by claiming to be years older, a prevarication that quickly swept him to the battlefields of Second World War France.
In time, he would travel to such off-the-radar destinations as the South Pacific. At the age of 47, the carpenter by trade took another chance, starting a new life in Canada with his much younger bride, Margaret.
On Wednesday, a Calgary courtroom hears the details of an incident in August of 2009, a brutal fall that would take nearly a week to kill the 90-year-old senior.
The first of several witnesses to be called over the next few days, a caregiver at Chinook Care Centre, where Orpen lived out the last eight months of his life, spends the morning on the stand.
Through a Spanish interpreter, the veteran caregiver describes the frail senior tumbling out of his electronic lift while being transferred from his chair to his bed, the momentum of his fall strong enough to smash open the back of his head.
While the violent manner of the soft-spoken expat Brit's death is shocking, just as disturbing is the evidence the caregiver -who not long after the Aug. 23, 2009, incident was terminated from her 11-year job at Chinook Care Centre -provides as to policies and procedures at her workplace.
She had trouble recalling whether she had ever read safety manuals, let alone knew of their existence.
"We didn't have time," is her answer to queries about why she wasn't up to speed on such vital aspects of her job as how to properly operate the mechanical equipment needed for many of the centre's residents.
Not surprisingly, she also wasn't aware of the specific instructions on communicating with Orpen, who was blind.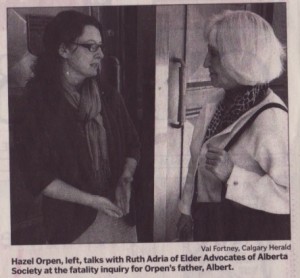 "This case is so troubling, and it is not an anomaly," Ruth Adria of the Elder Advocates of Alberta Society tells me in a court recess.
"They're not even instructed to look at instructions, how to take care of those relying on them -people who built this province, but are now dependent on society like children."
Adria, one of only about five spectators in the courtroom, has been advocating for more than a decade for seniors in Alberta.
"I was a nurse by profession, and couldn't believe what I was seeing," she says. "As a society, we need to be outraged, we need to have a conscience."
In addition to advocating strongly for keeping seniors at home as long as possible, Adria's organization has been pressing for more government funding and regulation.
"There is still no protective legislation for elderly persons in care," she says.
"We have the biggest population of seniors in history, that will greatly increase the need for care in the coming years.
"We'd better start thinking about them, and understanding what cases like Mr. Orpen's mean for all of us."
Sitting in the front row of the spectators' gallery, Hazel Orpen pays close attention to every word, scribbling notes in her binder. Over the lunch hour, she tells me about her father and her struggle to ensure his health and happiness during his senior years.
After the death of his wife, Orpen, who worked at ATCO until his retirement, was totally independent right into his 70s, taking trips to Elderhostels around the world.
Like many aging parents, Orpen kept his daughter on his toes.
"He was a bottle collector, and some people thought he was homeless," she says with a chuckle of the man who called a 100-year-old house in the innercity community of Cliff Bungalow home until in his 80s.
"He was an interesting, eccentric person," she says of the father who wrote his memoirs after retirement.
After several years at an independent-living complex, Orpen ended up in late 2008 at the Foothills Hospital.
After a brief stay where, says his daughter, "he was shuffled from room to room," he was placed at Chinook Care Centre.
Hazel Orpen plans to attend every moment of the inquiry, but she does so with no trace of anger or bitterness, even after reading through several glaring examples of yet another overworked, understaffed, underfunded social system.
"I don't want to be angry, I want to be compassionate," says Orpen, a social worker who stayed by her father's bedside after the fall that took a week to kill him. "I don't believe there are any bad people here who wanted to harm my father, but it brings up so many issues we all need to look at."
Or as Ruth Adria describes it, "this is a part of life hidden from society -but in the coming years, it will be the experience of more and more Canadians."
Courtesy: The Calgary Herald Full Article
Tags: Albert Orpen, Chinook Care Centre