Medical Screening of Older Drivers
Home > Senior Driving Issues > Medical Screening of Older Drivers
Medical Screening of Older Drivers


Counter-productive and ageist, and obscuring the real needs for assessment and rehabilitation services
Prof Desmond O'Neill MA MD FRCPI AGSF FRCP(Glasg)1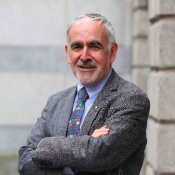 "En vieillissant on devient plus fou et plus sage": with this phrase la Rochefoucald summarizes the duality of ageing, which brings growth and loss at all ages. In later life, popular prejudices means that we often over-emphasize the 'plus fou' at the expense of the 'plus sage'.
Ageing brings many positive attributes, including better strategic thinking, experience, wisdom and social responsibility, and as we will discuss today, this results in older people having the safest driving record of all age groups.
The ETSC and CIECA are to be commended for bringing together a multi-disciplinary audience to discuss this important topic, at the heart of which lies the promotion of mobility, a personal, societal and economic good, with the highest achievable degree of safety. Many disciplines are central to this discussion, including experts in transportation, road safety, human factors, engineering and traffic medicine. Each has a language and culture of its own, and responds to different stimuli and pressures. Joint working, and teasing out of both common and potentially antagonistic agendas and research will be critical to developing a common vision of a Europe where both personal mobility and safety are furthered to the greatest extent possible. Both ETSC and CIECA have promoted these goals, and I would refer those interested to their literature, as well as the reports of the
OECD 1, the ECMT 2 and US Transportation Research Board 3.
Traffic medicine has evolved significantly over the past two decades, with a more overt emphasis on viewing mobility and safety in an integrated manner.
My own expertise lies in traffic medicine with older people, and this is a good vantage point for the overall discussion of whether screening programmes for medical fitness to drive have merit or not, as later life is the time when illness and disability occur at the most significant levels, and yet where.
With an ageing population, increasing numbers of whom drive, one of the greatest challenges is ensuring that older people are not unnecessarily constrained by an unfair attribution of risk 4. However, there is striking evidence that the perception of older
1 Correspondence to Prof. O'Neill, Trinity College Dublin, Centre for Health Sciences, Adelaide and Meath Hospital, Dublin 24, Ireland. Tel +353 1 414 3215; Fax +353 1 414 3244; email doneill@tcd.ie; www.ageandknowledge.ie
drivers in the media is very negative 5, and it is of interest that a significant number of European countries have introduced population screening for older drivers without a clear evidence base in their support 6. This may stem from misconceptions regarding the impact of age-related disease on driving: these misunderstandings also apply to medical journals, who commonly reproduce statements on the apparent increase in crashes per mile driven for older people 7. They may also stem from a simplistic view that the accumulated deficits of age-related disease are additive, and not mediated by the wisdom and sense of older people.
There are three important tenets of population screening in public health: these are that:
• the condition being screened for causes harm
• a suitably sensitive and specific instrument exists to screen for the condition
• the screening process can be shown to provide an overall benefit in terms of both
health and costs
A convincing case can be made that none of these conditions can be fulfilled for medical screening of all older drivers.
When your risk or my risk is assessed it is by our crash rate per year. Virtually by any
yard stick or study, older drivers perform well on this metric 8, with low annual crash
rates reported from around the world 1. Some propose that the baby-boomers might be
less cautious and judicious, but in fact, alarmist prophesies of major problems arising out
of increasing numbers of older drivers 9 have been demonstrated to be unlikely, with
further improvement in driving safety occurring with successive cohorts of older drivers 10.
A major challenge to this reality is the often-quoted increased crash risk per kilometre driven. Several studies have now established that this is in fact related to low mileage rather than age 11 12. When distance is controlled, not only do older drivers perform better than younger drivers of similar mileage, but also there is a trend for them to do better! Surveys of drivers over the age of 80 consistency show prudent driving behaviours 13. Even the presence of medical conditions is associated with a relatively modest increase in adverse driving events 14. It is also troubling that some publications dwell on increasing death rates among older drivers – these arise not from their behaviour, but from their fragility (and cars whose safety features are not adapted to the needs of an ageing population) – drivers over 70 have three times the risk of dying compared to younger people in a car crash of similar impact 15.
The second problem arises with the presence of a screening measure which is both sensitive and specific to detecting medical conditions which are relevant to safety. Medical screening is hampered by the relatively undeveloped status of traffic medicine among doctors in general, many of whom feel unprepared for the task of screening drivers 16. A wide number of cognitive and other tests have been proposed for screening, but all suffer from two main problems. The first is that they rely on an overly simplistic cognitive model of driving behaviour, and do not follow modern developments in traffic psychology, which lay much more emphasis on behaviour and strategic thinking rather than cognition 17. The second is based on a principle of public health called Baye's theorem, whereby the reliability of a test depends on how prevalent a condition is in the population being tested: for example, a memory test might work well in a general hospital where 30% of older people have memory problems, but not as efficiently in the community where 7% of older people have memory problems. While a driving test might be seen as the most useful test of function, two factors might militate against this screen: the first is concerns about reliability, and the second is uncertainty about cost benefit. Almost the only consistent relicencing feature associated with reduced crashes in the USA is that of requiring drivers to renew their licences in person 18.
It is in the cost-benefit analysis, however, that medical screening programmes score most poorly. In Scandinavia, Finland has medical screening, and Sweden doesn't, yet the age- related variation in private car accident and private car fatality trends was similar in both countries. Fatalities among unprotected road users (i.e., pedestrians, cyclists, and mopedists) increased more sharply with age among the older
Finnish population than among the Swedish population 19. Victoria is the only state in Australia that does not require medical screening of older drivers, yet older drivers in jurisdictions with age- based mandatory assessment programs could not be shown to be safer than drivers in Victoria.
Further, there is some indicative evidence that older drivers in Victoria may have a significantly safer record regarding overall involvement in serious casualty crashes 20.
These findings may seem counter-intuitive, they are probably based in part on a negative effect on continued driving among older people and their adoption of more risky travel modes, such as pedestrians or cyclists – but this is not the case for Australia. However, as current evidence from Scandinavia, Australia and the USA suggests that mass medical screening or cognitive screening of older drivers has negative public health consequences 19-21, the main thrust of future measures should focus on opportunistic screening of high risk populations, such as those attending memory clinics, and the refinement of effective pathways for clinicians and the DVLA to manage mobility and safety 22.
A useful redirection of intellectual and social energy might arise out of this discussion today. Rather than focussing on population screening, European driver licencing authorities, traffic medicine specialists and human factors specialists need to work on a clear and effective system for improving assessment of those who have medical conditions which affect driving ease and safety for those drivers who present to health services, traffic police or driver licencing agencies with medical problems. This is what is called opportunistic screening. Among the mechanisms required are:
1) an up to date, evidence-based guidance system throughout the European Union for advising on the many medical conditions that may affect driving ease and safety. The UK has an excellent system, with a series of expert medical panels regularly reviewing their 'At A Glance' booklet www.dvla.gov.uk/media/pdf/medical/aagv1.pdf, and a panel of expert doctors that concerned doctors can consult by telephone or writing.
2) a relatively standardized assessment and rehabilitation process, such as that provided by CARA in Belgium, or the Forum of Mobility Centre in the UK. Helpful progress has
been made by the PORTARE project, funded by the European Union, in progressing this ideal.
3) further development of supported transport for those who can no longer drive, incentivizing and facilitating the transition from driving.
The key challenges to rethinking medical screening are to educate government agencies on the relatively modest contribution to road safety made by medical conditions, and on the need for evidence-based and joint working between the many academic and professional constituencies – a first helpful joint publication on this appeared this year 23.
Indeed, all to often an ageing Europe is presented as a problem or a threat, rather than the major social advance which it is. Given that the greatest threat to road safety arises from younger, mostly male, drivers, we should instead learn what factors are involved to provide such an enviable safety record in a group with so much disability: if we could distil it, and inoculate it into younger drivers, Europe would truly become a safer place for all traffic users!
References
1. OECD. Ageing and Transport: Mobility Needs and Safety Issues. Paris: OECD, 2001. 2. CEMT. Report on transport and ageing of the population. Paris: CEMT, 2001.
3. Transportation Research Board. Transportation in an Aging Society: a Decade of
Experience. Washington DC: Transportation Research Board, 2004.
4. Hakamies-Blomqvist L, Peters B. Recent European research on older drivers. Accid
Anal Prev 2000;32(4):601-7.
5. Martin A, Balding L, O'Neill B. A bad press: older drivers and the media. Br Med J
2005;330:368.
6. White S, O'Neill D. Health and relicencing policies for older drivers in the European
Union. Gerontology 2000;46(3):146-152.
7. Ngo D, O'Neill D. Balancing mobility and risk in research on older traffic users: a
quantative analysis. Ir J Med Sci 2005;174 (Suppl 2):46.
8. Langford J, Bohensky M, Koppel S, Newstead S. Do older drivers pose a risk to other
road users? Traffic Inj Prev 2008;9(3):181-9.
9. Burkhardt JE, MCGavock AT. Tomorrow's older drivers : Who? How many? What
impacts? Transportation Research Record 1999;78:62-70.
10. Hakamies-Blomqvist L, Wiklund M, Henriksson P. Predicting older drivers' accident
involvement–Smeed's law revisited. Accid Anal Prev 2005;37(4):675-80.
11. Hakamies-Blomqvist L, Raitanen T, O'Neill D. Driver ageing does not cause higher
accident rates per km. Transportation Research Part F: Traffic Psychology and
Behaviour 2002;5(4):271-274.
12. Langford J, Methorst R, Hakamies-Blomqvist L. Older drivers do not have a high crash risk–a replication of low mileage bias. Accid Anal Prev 2006;38(3):574-8. 13. Brayne C, Dufouil C, Ahmed A, Dening TR, Chi LY, McGee M, et al. Very old
drivers: findings from a population cohort of people aged 84 and over. Int J Epidemiol 2000;29(4):704-7.
14. Vernon DD, Diller EM, Cook LJ, Reading JC, Suruda AJ, Dean JM. Evaluating the crash and citation rates of Utah drivers licensed with medical conditions, 1992- 1996. Accid Anal Prev 2002;34:237-46.
15. Hakamies-Blomqvist L, O'Neill D. Older people and road traffic injury. World Report on Traffic Injury Prevention. Geneva: WHO, 2004:47.
16. Jang RW, Man-Son-Hing M, Molnar FJ, Hogan DB, Marshall SC, Auger J, et al. Family physicians' attitudes and practices regarding assessments of medical fitness to drive in older persons. J Gen Intern Med 2007;22(4):531-43.
17. Fuller R. Towards a general theory of driver behaviour. Accid Anal Prev 2005;37(3):461-72.
18. Grabowski DC, Campbell CM, Morrisey MA. Elderly licensure laws and motor vehicle fatalities. Jama 2004;291(23):2840-6.
19. Hakamies-Blomqvist L, Johansson K, Lundberg C. Medical screening of older drivers as a traffic safety measure–a comparative Finnish-Swedish evaluation study. J Am Geriatr Soc 1996;44(6):650-3.
20. Langford J, Fitzharris M, Newstead S, Koppel S. Some consequences of different older driver licensing procedures in Australia. Accid Anal Prev 2004;36(6):993- 1001.
21. Viamonte SM, Ball KK, Kilgore M. A Cost-Benefit Analysis of Risk-Reduction Strategies Targeted at Older Drivers. Traffic Injury Prevention 2006;7(4):352 – 359.
22. Tay R. Ageing drivers: storm in a teacup? Accid Anal Prev 2006;38(1):112-21. 2
3. Langford J, Braitman K, Charlton J, Eberhard J, O'Neill D, Staplin L, et al. TRB Workshop 2007: Licensing authorities' options for managing older driver safety– practical advice from the researchers. Traffic Inj Prev 2008;9(4):278-81.
Do older drivers pose a risk to other road users?
Langford J1, Bohensky M, Koppel S, Newstead S.
Author information
1 Monash University Accident Research Centre, Monash University, Clayton, Australia. Jim.Langford@muarc.monash.edu.au
Abstract
OBJECTIVE:
To investigate the extent to which older drivers pose a risk to other road users, relative to drivers of other ages, using Australian fatal crash data.
METHOD:
The principal data source was the Australian Transport Safety Bureau's National Fatalities Database, which has provided fatality numbers for the most recent available 10-year period (1988, 1990, 1992, 1994, and 1996-2001). For each driver age group ("target drivers"), fatality rates were calculated for the following categories of road users: target driver deaths, their passenger deaths, road users external to the target vehicle but killed in the crash involving the target driver, all road users killed other than target drivers, and all road users killed (including target drivers). Fatality rates were calculated on three bases: per population numbers in each age category, per licensed driver numbers in each age category, and per distance driven for each age category. The different road user fatality rates associated with drivers aged 80 years and older were compared to the rates associated with drivers from younger age categories.
RESULTS:
On a per population basis, older drivers had a significantly lower "all road users" fatality rate than all age groups bar one (RR for other age groups: 1.2-3.1) and these differences strengthened once target drivers were excluded (RR: 1.4-5.1), all differences significant. On a per licence basis, older drivers had significantly higher "all road users" fatality rate when compared to the rates for drivers aged 30-39 years through to 70-79 years (RR for these age groups: 0.5-0.7) but once the target drivers were excluded, older drivers' "all other road users & fatality rates for were significantly lower than for drivers aged 17-24 years to 30-39 (RR: 1.3-2.6) years. On a per-distance basis, older drivers had significantly higher all road users fatality rate when compared to the rates for all drivers aged 25-29 years through to 70-79 years (RR for these age groups: 0.1-0.4). Once the target drivers were excluded, older drivers' all other road users fatality rates remained significantly higher than for these other age groups (RR: 0.3-0.7) years.
CONCLUSIONS:
Based on two of the three bases (per population and per licence), it has been strongly asserted that overall, the older the driver, the less the threat to other road users–and particularly, the less the threat to road users external to the driver's vehicle. Drivers aged 80 years and older appeared to be the greatest threat to other road users only when per distance fatality rates were compared.