Sexual Assault at the Edmonton General Care Center
Home > Sexual Assault > Sexual Assault at the Edmonton General Care Center
Lorna Wright
July 28, 2006
Caritas Edmonton General Continuing Care Centre
11111 Jasper Ave. Edmonton, AB , T5K 0L4
A judge has upheld the decision to fire an Edmonton nursing assistant for making sexual jokes to two men who were dying of cancer.
Lorna Wright flipped the penis of a 68-year-old man she was washing at the Edmonton General Continuing Care Centre, saying, "How's Mr. Business doing today, I bet he's been a busy boy," according to evidence at an arbitration board
hearing. She also suggested: "I bet there's lots of ladies' names on him –Â let's see if the names are still there."
The former trucker and concrete worker, referred to in the board's report by the pseudonym George Mullen, was "visibly shaken" when he reluctantly outlined the August 2003 incident to staff a few days later. Mullen, who died of pancreatic cancer the following month, told resident care manager Scott Baerg that "in his entire life, which had been a bit on the rough side, he had never before been treated in such a manner." Mullen said to Baerg:
"It's not like I'm an 18-year-old girl who's been molested, but this is the worst thing that has happened in my life."
Around the same time, Wright went into the room of lung cancer patient Jim Forester (also a pseudonym) to provide care, telling him,"OK, get naked," and saying, "I bet you've been with a lot of women — I thought it would be worn out."
Although Forester sobbed for five minutes after revealing the incident, he also said Wright's comments made him mad. He further told Baerg that Wright used
to tease him about sex.
"I told her that she was a devil woman and that there was a song about her … she didn't like being called devil woman, and I told her to quit talking about sex." Forester died in January 2004 at age 79.
Wright, whose 30-year health-care career included eight years at the General.
It is most troubling to consider all the other male residents whom this caregiver was able to molest throughout her many years of employment.
Letter
August 3, 2006
The Honourable Mr. Ron Stevens, QC
Minister of Justice and Attorney General
Room # 208, Legislature Building
10800 – 97 Avenue, Edmonton, AB. T5K 2B6
Dear Mr. Minister:
Lorna Wright – Sexual Assault of terminally ill residents @ Caritas, Edmomton General Care Centre 11111 Jasper Avenue, Edmonton, AB. T5K 0L4
We are asking that assault charges be laid against the above named Lorna Wright in regard to the admitted, sexual assaults by her, which occurred at the Caritas, Edmonton General Care Centre.
It is most troubling to consider all the other vulnerable, voiceless male residents whom this caregiver molested throughout her twelve years of employment at that Centre. Assaults, which probably did not become known, be reported or regarded when reported, while she was employed in the long term care area. Palliative care residents are treated with somewhat more dignity than continuing care residents.
We respectfully ask your attention to this urgent matter. We would be grateful to be in receipt of your reply by August 22, 2006. Thank you.
Elder Advocates of Alberta Society
CC:
Honourable Iris Evans, Minister of Health and Wellness
Honourable Yvonne Fritz, Minister of Seniors & Community Supports
Dr. Kevin Taft MLA
Mr. Brian Mason, BA
Reply
Click to Enlarge Pages
Police Report
Click to Enlarge Pages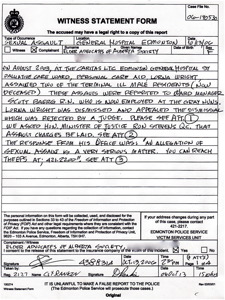 Second Letter
HAND DELIVERED
May 9, 2008
ATTENTION: Sgt. Trudy Triplett City of Edmonton Police Headquarters Edmonton, AB T5H 0H7
Dear Madame:
LINDA WRIGHT – SEXUAL ASSAULT OF MALE PALIATIVE CARE PATIENTS
Thank you for your phone call of May 6, 2008 in which you outlined the matter of Lorna Wright.
We find it troubling that criminal charges have not been laid under the Criminal Code, Section 271. Why were criminal charges not laid?
For the many years Ms. Wright worked in long term care, her abusive behavior would have been known to others. In such institutions, workers are afraid to report and even if they do, criminal behavior such as this is disregarded such as it has been in this instance. It is disturbing to consider how many elderly were assaulted throughout the years by her and perhaps continue to be assaulted.
You say her name is now on record, so she will not be able to work in elder care facilities. There is no legal requirement for care facilities to do criminal record checks. In fact, we have documented information that most fail to do so.
Thank you for your attention to this matter. Please allow us to be in receipt of a response concerning this matter by May 20, 2008.
Respectfully submitted,
Elder Advocates of Alberta Society
Tags: Brian Mason, Edmonton General, Edmonton Police Service, Kevin Taft, Lorna Wright, Ron Stevens