Complaint to Protections for Persons In Care Rejected
Home > Abuse & Neglect Studies > Complaint to Protections for Persons In Care Rejected
First Letter
October 16, 2008
VIA Facsimile (780) 415-8611
Complaint to the Protection For Persons In Care Act Abuse Line
Josephine Stankiewicz, resident – Bramel Homes
15331 104 Ave Edmonton, AB T5P 0R7
Tel. (780) 489-8184
Josephine Stankiewicz:
Has been seriously dehydrated, had to be hospitalized.
Neglected, improper care, has not been bathed for some weeks
No professional nursing staff on duty, only persons hired off the street.
Has been isolated by previous owner, phone number changed.
Medications not administered
Protection for Persons in Care Act Chapter P-19,5:
This Act defines abuse to include:
1.a.ii "Intentionally causing emotional harm […] coercing or restricting from appropriate social contact"
1.a.vi "intentionally failing to provide adequate nutrition, adequate medical attention or other necessity of life without a valid consent"
Elder Advocates Of Alberta Society
Response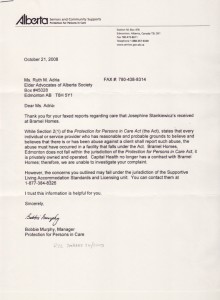 Second Letter
January 20, 2009
VIA Facsimile (780) 415-8611
Letter to follow
Ms. Edith Baraniecki, Director PPCA,
Station M, Box # 476,
Edmonton, AB T5J 2K1
Dear Madam:
RE: Complaint to the Protection For Persons In Care Act (PPCA) abuse line dated October 16, 2008
Josephine Stankiewicz, resident – Bramel Homes
15331 104 Ave Edmonton, AB T5P 0R7
Tel. (780) 489-8184
There has been failure to investigate the above noted complaint which was faxed twice to your Office. (attached)
Health care providers owe a duty of care to their clients to provide a reasonable level of safety.
We ask your investigation into this matter.
We would be grateful to be in receipt of your response in regard to this matter by the 30th of January, 2009. Thank you.
Elder Advocates Of Alberta Society
c.c.
The Honourable Ms. Mary Anne Jablonski, Minister for Seniors and Community Support Services
Mr. Tim Wiles, Deputy Minister, the Office of The Deputy Minister, Seniors and Community Supports
Attachment – PPCA complaint dated October 16, 2008
Response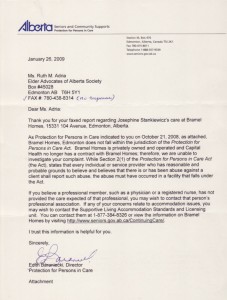 Tags: Bramel Homes, Edith Baraniecki, Josephine Stankiewicz, Mary Anne Jablonski, Protection for Persons in Care Act