Unprovoked banning of visitor at Caritas Hospitals
Home > Abuse & Neglect Studies > Unprovoked banning of visitor at Caritas Hospitals
We have sent the attached along so that you may understand how determined the system is to frighten, discourage and get rid of me.
I was sitting quietly with a dying man, Konstanty (Ken) Stankiewicz on the evening of the 24th of October (He died on the 26th). His 93 year old wife went home to sleep, she was exhausted. I was sitting in a chair beside the dying man, in a dimly lit room. Staff were kind to me and even gave me a heated blanket – though I did not have conversation with them or discuss the care øf the dying man.
At 2:00 AM I became aware of two large uniformed persons standing in the darkened doorway, who asked me to step into the hallway.
The male constable demanded my license. He then read me my rights, cautioned me, told me to call a lawyer if I wished and said anything I said could be used against me. I was frightened (AND VERY TIRED) and said I did not wish to cause a problem but that I had been there that day/afternoon and often before, The male constable, who was the only one who addressed me, said that I should stop saying that because he would have to give me additional tickets for that. He filled out the attached.
He informed me that there was a restraining Order against me signed by a judge in the Misericordia Security office. I have never been served any documents, Restraining Order in this regard or was aware of what he was claiming.
I had been removed from the Misericordia Hospital on February 19, 2004 – note "Case Study" in www.elderadvocates.ca .
They walked me past the nursing station, out of the nursing home, to my car. Once outside, the male constable thanked me a number of times that I had been cooperative.
Ruth Maria Adria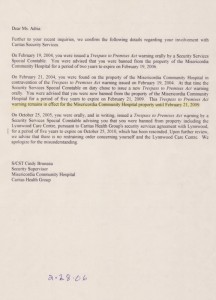 Tags: Josephine Stankiewicz, Misericordia Hospital, Trespass