Rape of 91-year-old Brentwood Care Centre
Home > Sexual Assault > Rape of 91-year-old Brentwood Care Centre
Brentwood Care Centre
2727 16 Ave. NW
Calgary, AB
(403) 289-2576
"You have raped us all"

-Victim's Family Impact Statement
A nursing aide who sexually assaulted a 91-year-old in a seniors home was sentenced to five years in prison for an act the Judge called a "despicable crime." Rex Ongee Okumu, 41, was convicted in August 2006, of sexual assault on a resident of the Brentwood Care Centre. Justice Scott Brooker of Court of Queen's Bench agreed with Crown Prosecutor Sheena Cunningham, that Okumu's actions constituted a serious sexual assault. She said the case represents a "horrendous breach of trust" on a person who was as helpless as a child.
Okumu, was the second Calgary care worker in a period of three months to be convicted of sexually assaulting an elderly woman in a seniors home.
During the trial earlier this summer, a nursing assistant testified, that on the evening of Saturday, July 3rd, 2004, she found Okumu, his pants and underwear around his ankles, bent over the disabled victim in a compromising position. The woman suffers from dementia and Alzheimer's disease. Okumu, with some difficulty, attempted to pull up his underwear and pants. When he saw his co-worker. "He said, 'Don't tell anybody, just keep it a secret'," she said.
According to court testimony, the staff person who reported the incident to senior staff on the evening of the assault, stated that something "awful" had happened. Senior staff relied, "Was it Rex?"
Police were called the following day.
Rex Ongee Okumu leaving the Calgary Court House Photo by Brett Beadle/Calgary Herald
A staff person was threatened, that if she persisted in her complaint, her house and everyone in it would be burned down. Police provided protection for some days. It was not known who uttered this threat.
The 48 hour delay for the rape examination may have allowed wounds caused during the alleged assault to heal, Dr. Pauline Head told Court of Queens Bench. Head, an expert in emergency medicine and sexual assault injury, testified she couldn't say with any certainty whether bruising found on the elderly woman's genitals on July 5, 2004, was the result of an attack two days earlier or a pre-existing injury."Two days later I might not see any evidence of tearing", Head told the court.
While some of the injuries were consistent with forced intercourse, the victim's age, the time lapse left Head without a definitive diagnosis.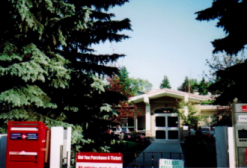 Justice Scott Brooker ordered Okumu to register as a sex offender in Canada for 20 years, and provide a DNA sample for the national offenders data bank.
Although the victim's family remained silent throughout the case, a victim impact statement read by a victim advocate indicated the devastation caused to the family. "You have raped us all. Our family is polarized", the Statement read.
Elder Advocates of Alberta Society has said this case again demonstrates the need for mandatory video surveillance in seniors care facilities, much like cameras already in day cares. (See our demand letter of April 24, 2006.) Very elderly persons are like frail children, they need the same watchfulness, protection and certainty of safety.
"The victim was completely at Mr. Okumu's mercy", Justice Brooker told court during his sentencing. "She could not escape or otherwise protect herself from the sexual assault". He also said she was in what could be considered a safe place.
Hidden Cameras Used to Stop Nursing Home Neglect
New York Attorney General Andrea Cuomo has begun using hidden cameras in nursing homes to stop the criminal abuse and neglect of residences. This program has already had success in uncovering patient abuse and employees falsifying medical records to cover up misdeeds at a Long Island nusing home. The program is being expanded to other areas in New York State. This is a positive step to curb injury to one of societies most vulnerable, those who find themselves elderly and infirm.While these criminal prosecutions are noteworthy, they are not the only weapon available to protect nusing home residence. The state and federal government have enacted numerous laws aimed at regulating nursing home practices. The Public Health Law in New York provides a individual with a private right of action for damages stemming from a deprivation of rights or benefits. The patient's well being is paramount and these laws were put into place to protect the basic human rights and dignity of those who find themselves in a nursing home.
November 16, 2008