Abuse disregarded by government
Home > Abuse & Neglect Studies Blog > Abuse disregarded by government
Elder abuse at Autumn Lodge disregarded by government.
Minister Hoffman,
Sarah, I watched you in the Assembly today and I saw and heard how strong you felt about Women and their rights and that you would stand up for them.
I wonder if you would take time to consider that the majority of the Seniors in the Autumn Lodge are women, and I wish that you would help them too.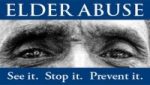 Mostly my Mom who was so emotionally abused and suffered such mental abuse at the hands of North Peace Housing when they closed that Lodge in Berwyn, that her scars are very deep and at 90 she will never recover what she was put through.
It seems that there is nowhere in our Government that looks after Seniors when they have been subjected to Elder Abuse and this makes me so sad. PPCA was contacted to open an investigation by The Elder Advocates and they have choose to ignore the cries
for help. I will never be able to accept the fact that this has been allowed to happen and there is nowhere to go for help.
I am pleading with you look into what has happened and to hear the cry of a very distressed Woman. At one time Mom was a young Lady she was vibrant and full of life and
free and independent. Then she was widowed at 82 years old and had to move into Assisted Living. Her body is old and wrinkled, and her legs do not work like they use to, and her little hands shake, and sometimes she spills food on her blouse, and her body aches from the ravages of age, and her mind is not as sharp as it was, but inside there is still that young Woman who was ready to conquer the world.
Please Minister Hoffman I beg of you to look into this situation and to ask how a Housing Board that provides housing to our aged and vulnerable can justify allowing their staff to emotionally and mentally abuse Seniors, and then send that same Staff on to another facility to repeat their actions. That Staff needs to be reprimanded and justice needs to be served. And again I plead on you for the Women but also the Men that were involved.
One case of abuse is one too many. I would appreciate if you would respond to this E Mail so that I know you are hearing my plea for help.
Sue Morrison