Anne Fedorio dies in explosion at seniors' home
Home > Abuse & Neglect Studies > Anne Fedorio dies in explosion at seniors' home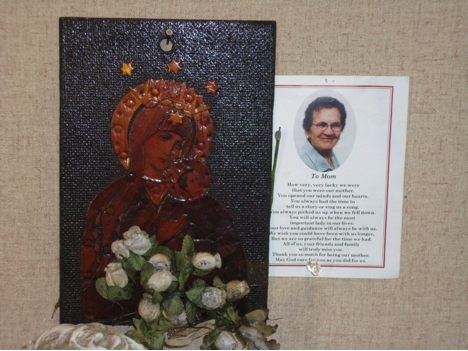 Bethany Senior Citizens Home at 9920 83 Avenue.- 63 Unit Senior's Housing
Anna Fedorio, 83, died during an explosion and resulting fire on August 2nd,
2011. She is photographed below.
The icon of the Blessed Mother with the white flowers was the only item that remained after the horrific bomb blast and fire.
The fire was so intense that Mrs. Fedorio had to be identified by dental records.
Ken Kopiak, 64, was also found dead at the scene of the August fire and was held responsible for the fire.
Police were called to the residence shortly after 12:30 a.m. on Aug. 2., 2011 Investigations revealed that Ken Kopiak, 64, set fire to his car that was parked below the residence. Kopiak then entered his apartment, where he poured gasoline throughout his third-floor suite, police say. Fedorio, who lived next door to Kopiak, died after a fire and explosion in his suite.
Kopiak died in the same fire that killed Fedorio. His death has been ruled non-criminal, a designation that includes suicide. e. Police say the fire was caused by Kopiak. He had poured gasoline all throughout his suite.
The tragedy the Fedorio family suffered underscored how vulnerable some seniors feel in the own homes. That's the view taken by at least one advocate who blamed the provincial government and seniors homes administrators for failing to protect older persons
"The troubling issue is that the elderly were afraid of him .. the other persons were afraid," Ruth Adria of the Elder Advocates of Alberta Society said of Ken Kopiak.
"They lived in fear and nobody remedied the problem."
Adria confirmed that prior to the fire she had dealt with some residents in the building. It's apparent this was a long-standing problem, she said.
"As soon as I heard this, I thought, 'Why wasn't something done? How could it happen?' And it's clear he must have threatened them in some way. They were afraid."
The Bethany is an independent-living facility with an on-site manager and Adria said she was certain that the problem was well-documented.
"Certainly the manager knew that he was a big problem, and that the others were afraid of him," she said. "When you get old, the fight is out of you and you're just trying to survive."
Adria said the concerns of seniors were forwarded to the ministry which, she said, chose to overlook the problem.
The manager worked every day Monday thru Friday 9-5, and week-end. But not at night. At night these elderly were unattended and unprotected.
See correspondence "Senior Housing Unsafe"