Canadian laws threaten religious freedom
Home > Blog Letters & Reports > Canadian laws threaten religious freedom
U.S. Secretary of State Mike Pompeo released a report on international religious freedom on Tuesday that includes Canada's battles over freedom of conscience and parental rights as concerning international incidents.

The report documents Ontario's Christian doctors' fight for conscience rights and the government's inclusion of gender expression and identity in child welfare law.
Pro-life and pro-family advocates have warned that the ltter gives the state license to remove children from homes if their parents are not accepting enough of the LGBT cause.
Pompeo also announced his department will host a conference on international religious liberty, "Ministerial to Advance Religious Freedom," in Washington.
The meeting of faith leaders and top diplomats from "like-minded governments" around the world is scheduled for July 25 and 26. It will not be a "discussion group" but rather provide an opportunity to "break new ground," Pompeo told reporters at department headquarters.
"It will be about action," he said. "We look forward to identifying concrete ways to push back against persecution and ensure greater respect for religious freedom for all."
Pompeo described religious freedom as the "most fundamental of human rights" and asserted, "the United States will not stand by as spectators" when religious persecution occurs outside its borders.
Ontario Bill 89 allows government to remove children from Christian homes
The report's summary of "government practices" in Canada noted Ontario amended its laws in June "to add a child's gender identity and gender expression as factors provincial child welfare authorities should consider in matters of child protection, adoption, and foster care."
The law "also eliminated consideration of the religious faith in which the parents were raising a child when deciding where and whether to place a child in care," it stated.
"Some NGOs stated the change could discriminate against parents, adoptive couples, or foster parents with religious beliefs that only recognize marriage between individuals of opposite sexes," it noted. "They also stated the change could allow child protection services to remove LGBTI-identifying children from the custody of biological parents whose religious beliefs do not support LGBTI persons. Government officials said this was not the intent of the law."
It reported that the Justice Centre for Constitutional Freedoms (JCCF) in November filed an application for judicial review "on behalf of an evangelical Christian couple" of the Alberta government's decision to deny them "the ability to adopt a child because of their religious beliefs."
Alberta's child welfare services allegedly told the couple those beliefs "appeared to 'reject' children who identify as LGBTI."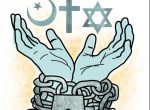 The JCCF's application argued the decision "was unreasonable and arbitrary, and violated the couple's right to religious freedom under the constitution and the Alberta Human Rights Act," it stated.
The JCCF announced on May 2, 2018 that the Alberta government had reversed the decision.
Adapted LifeSiteNews) 31/05/18