Lisa Goltman – Assaulted at Alberta Hospital
Home > Blog > Lisa Goltman – Assaulted at Alberta Hospital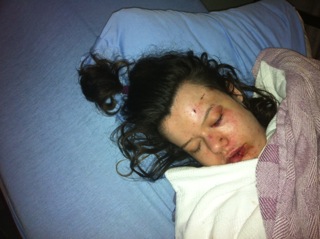 On March 25, 2013 this 22 year old Edmonton woman was so severely injured at Alberta Hospital Edmonton, that she had to be sent to the emergency room of the University Hospital.
The injuries were allegedly sustained at 3:00 PM, however no ambulance was on site until 4:30 PM.
It was reported that her lip was sliced open, a bruised left eye, an injury to her forehead, blood everywhere.
Though Alberta Hospital staff reported that the injuries were caused by  slipping
and falling, the emergency physician who saw her, told family that it could not have been a fall, but rather a beating.
Lisa's room mate told family that a man and a woman beat Lisa's head into the cement floor. This was denied by the Social worker.
To date no charges have been laid, no one has been held accountable.
Tags: lisa goltman