NorQuest College Honours Senior Student Flora L'Heureux
Home > Dependent Adult Abuse > NorQuest College Honours Senior Student Flora L'Heureux
See also: Formal Complaint Filed by Flora L'Heureux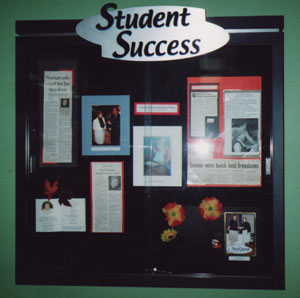 In Loving Memory of Flora L'Heureux
Born August 15, 1931
Montréal, Québec
Passed Away
October 1, 2008
Edmonton, Alberta
A display honouring Flora has been set up on the 5th floor of Norquest College. 10215 – 108 St. Edmonton, Alberta
Click to Enlarge Pages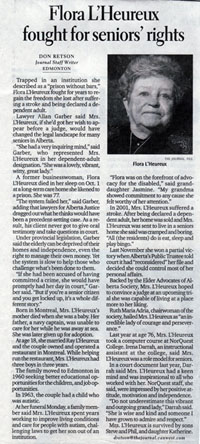 In The News
An Edmonton senior studying at a local college despite suffering personal setbacks including a stroke has been recognized for her efforts.
Flora L'Heureux, aged "70-some-thing," received an award May 23 at NorQuest College's annual SHINE Awards ceremony. The awards recognize students for efforts, attitude and commitment to learning that inspire fellow students and classmates. College president Wayne Shillington and Joy Himmelman, Dean of Student Services, officiated.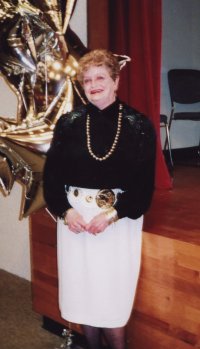 L'Heureux attended classes at NorQuest College during the 2006 2007 school term. She said college staff worked hard to restore educational opportunities she lost to unfortunate circumstances as a child.
"I'm learning to use computers for the first time and the college staff are helping me learn the skills I needed when I was growing up," she said.
Although L'Heureux received only a grade six education, she was for years a successful businessperson in the Edmonton area. She says she is the first Edmonton woman to convince the provincial social services into giving non-verbal and autistic children funding for community living and individualized learning support. Pam Haggarty, a curriculum developer and instructor at NorQuest College calls L'Heureux a lifelong learner who is very determined not to let personal struggles get in the way of her progress. These struggles include a stroke back in the '90s and an ongoing fight with the provincial government regarding her status as an independent person.
"Flora never misses a day," Haggarty said. "She is here every day well before her session begins and stays after her work with Irena Darrah her instructional assistant, to practise the skills she has learned that day. "Flora came to college with fulltime oxygen use and fatigue. She now rarely uses her oxygen and has more energy than people less than half her age. I do believe that coming to school has improved her overall well-being."
Adapted from The Edmonton Senior, June 2007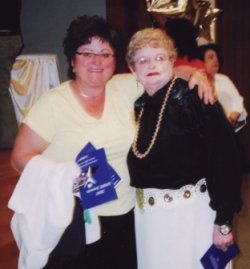 Ireenah Darrah (left) with Flora L'Heureux
Photo # 3 – Norquest College

 

Photo # 4 – Flora L'Heureux speaking with Dr. Wayne Shillington, President and CEO of Norquest  College following the award ceremony