Males Bathing Females
Home > Blog Dependent Adult Abuse Sexual Assault > Males Bathing Females
COMPLAINT:
Hello, I have issue with my mother who is at the xxxxxxx Extendicare. She is in rough shape

mentally and physically, and is in additional distress because of the neglect of her wishes
in regard to the nursing aides. She is in EXTREME DISCOMFORT when a male aide is assigned

to help her dress/undress, or bathe and has started refusing assistance from those she deems
to be male. What ends up happening is that if there is no female available on that shift
to assist, so mother
– DOES NOT GET HER BATH
– DOES NOT get UNDRESSED or DRESSED.
The DIRECTOR OF CARE does not seem to be able or willing to arrange help in such a way
to ensure that my mother is cared for by a female. Is there regulation in place for this?
Thanks for your help in advance.
REPLY:
We have written MINISTER SARAH HOFFMAN, HONOURABLE MINISTER OF HEALTH, in this regard,
requesting a Directive that only female caregivers are assigned to give personal /
perineal care to females. In a responding letter, she trivialized our concerns.
Very elderly persons are really like frail children. They need the same protection and
assurance of safety.
We strongly allege that ALLOWING MALE CAREGIVERS to give PERSONAL /PERINEAL CARE to
female patients, FACILITATES, TOLERATES and even ENCOURAGES a RAPE CULTURE.
In 2013, THE PROTECTION FOR PERSONS IN CARE under the direction of Anita Sieben RN,
Director reported that there had been SIXTY COMPLAINTS of SEXUAL ASSAULT IN LONG
TERM CARE FACILITIES over the past two years.
In 2016, a mother reported to a Fatality Inquiry of how she found her (now) deceased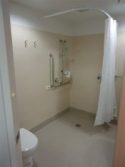 22 year old daughter screaming in a shower room at Alberta Hospital Edmonton. She found her
daughter naked in the presence of a male who was about to shower her.
It was widely published by media, 2015 that a detainee of the Forensic Unit
of Alberta
Hospital Edmonton, Kirsten Lamb, a prisoner who suffered from severe mental illness,
who had been charged with the murder of her mother, who was at all times detained
in a locked cell was found to be pregnant with chid.
Accounts of sexual assault which are posted on our website were carried out by male
caregivers / attendants.

Females object to males bathing them.
Males object to females bathing them.
FACTS ABOUT SEXUAL ABUSE:

– 70% of reported sexual abuse occurs in nursing homes
– Only 30% of victims of elder abuse report it to authorities.
– The abuser is the primary caregiver 81% of the time.
– Elderly women are six times more likely than men to be sexually assaulted. 02/09/17