Olga Tavares, Request for answers from Driver Fitness and Monitoring Branch
Home > Senior Driving Issues > Olga Tavares, Request for answers from Driver Fitness and Monitoring Branch
July 4, 2012
Mrs. Olga Tavares, Director
Driver Fitness and Monitoring Branch
Main Floor, Twin Atria Building
4999 – 98 Avenue
Edmonton, Alberta, Canada T6B 2X3
Via Facsimile (780) 422-6612
Dear Madam:
Reference: Driver license renewal
Please advise us.


What gives your department the authority to demand that Alberta senior citizens, who apply to have their driving licenses renewed, be subjected to a Simard MD test or be referred for testing to DriveAble, a private for profit agency?
We would be grateful to be in receipt of your response by the 12th of July, 2012.
Thank you.
Yours truly,
Elder Advocates of Alberta Society
Olga Tavares provides MISINFORMATION

http://elderadvocates.ca/alberta-driver-fitness-illegally-demands-driveable-assessment/
Response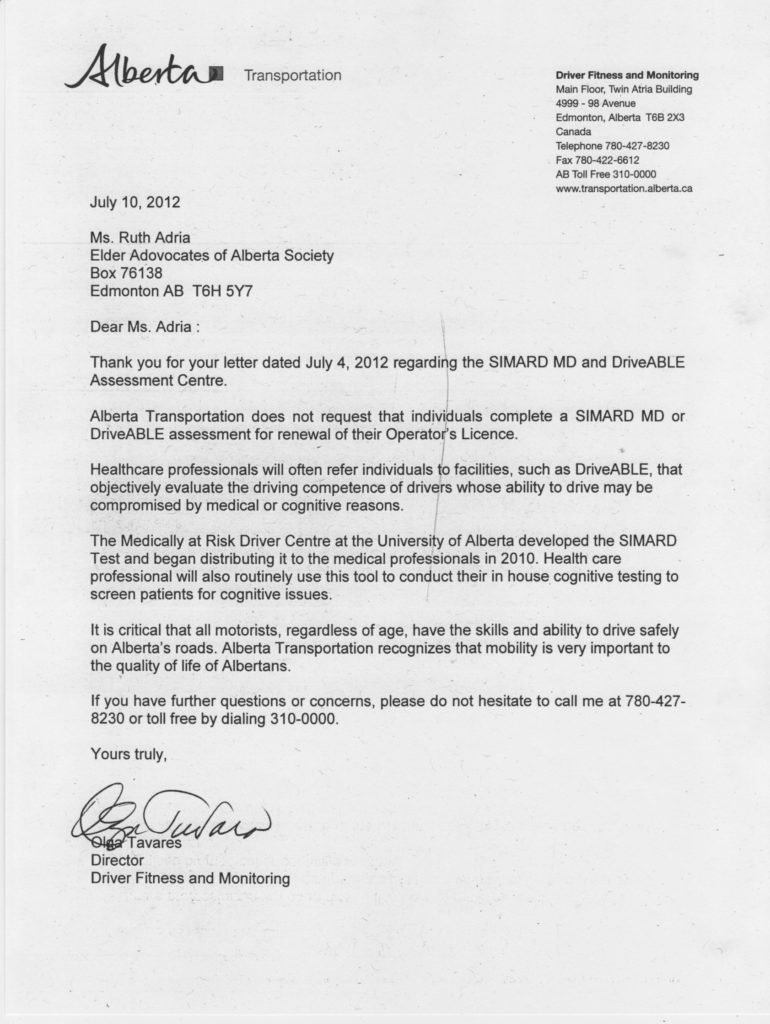 Tags: DriveAble, Driver Fitness and Monitoring Branch, Olga Tavares, Simard